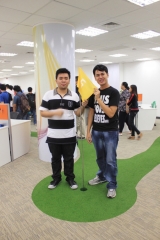 If you're looking for an exciting place to work after Ateneo, you might want to check out Network Labs, Inc. Network Labs is the Research & Development Center of Nokia Siemens Networks.
I first visited their office when I joined a programming competition last May. After the competition, Mr. Said Berrahil, head of the Research & Development Center took us on a tour of their office. The office had just opened this year and was designed with bigger working spaces, easy access to files and equipment, and more interaction between employees. Should you need a break from work, the office also includes an area for relaxation. They have a kitchen, a dining table, comfortable chairs, game consoles, and the most important thing to every Filipino's life, the karaoke cubicle.
Network Labs aims to provide 4G to five billion people, an initiative they call 4G25B. With that kind of workplace, employees are surely motivated to work on their projects. The future of 4G25B is not far away.
Network Labs currently needs software engineers, who will design, implement, and test software modules and programs. These software engineers should have either a BS or MS in Computer Science, Electrical Engineering, or Information Technology. They should be very competent and fluent in programming in C, C++, and other object-oriented programming languages. They should also be familiar with software developing using Agile Software Development, Test-Driven Development, and Extreme Programming.
Software engineers will also work in embedded systems. They should have knowledge about TCP/IP networking.